Open House Schedule
SEPTEMBER - NOVEMBER
Septmber
October
November
Mon
Tue
Wed
Thu
Fri
Sat
Sun
Mon
Tue
Wed
Thu
Fri
Sat
Sun
Mon
Tue
Wed
Thu
Fri
Sat
Sun
1
2
3
1
1
2
3
4
5
4
5
6
7
8
9
10
2
3
4
5
6
7
8
6
7
8
9
10
11
12
11
12
13
14
15
16
17
9
10
11
12
13
14
15
13
14
15
16
17
18
19
18
19
20
21
22
23
24
>
16
17
18
19
20
21
22
>
20
21
22
23
24
25
26
25
26
27
28
29
30
23
24
25
26
27
28
29
27
28
29
30
30
31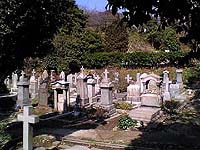 Cemetery is open to Donors from February to July and from September to December on weekends and national holidays (except bad weather) from 12 noon to 4 PM.

A pamphlet is offered in lieu of donation (Yen 500 or more).

Specified in orange is the designated route.
List of notable graves and designated route are shown on the pamphlet offered in lieu of donation.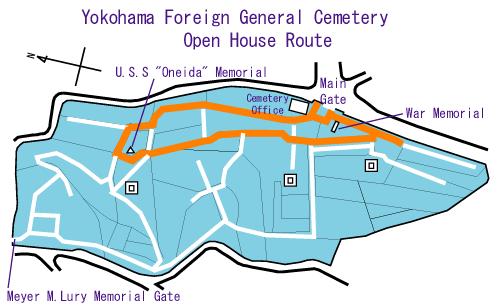 Request for Volunteers
Yokohama Foreign General Cemetery Open House Volunteer Wanted

The Yokohama Foreign General Cemetery is situated in a scenic and residential area of Yokohama and is known as a historical spot in the history of Japan. The Yokohama Foreign General Cemetery Foundation has managed this cemetery since Meiji Era. The Yokohama Foreign General Cemetery is not under the jurisdiction of any local or any single government, we are also not being sponsored by such entities, therefore committee is totally responsible for collecting or raising funds required for the general operations of the cemetery. The cemetery is in need of constant maintenance, land fortification, and so forth. The cemetery currently only has a limited amount of space left for grave and therefore with new plot sales no longer an option for a reliable source of income, we are relying on our Open House Program to raise funds to pay our expenses.


The Open House Program allows visitors to tour predetermined route of the cemetery for general viewing in lieu of a small donation of Yen 500 or more.
We require assistance in the form of volunteers to guide visitors and perform other simple chores during our Open House days.
We would be most grateful for your assistance in the form of volunteers to raise funds to help preserve and maintain this important historical spot in Yokohama.
Refer :Yearly Progress Report


Anyone can volunteer to help with the Open House.

Activity : Appeal for donations, reception work.
Period : February to December, weekends and national holidays (except bad weather)
  Time : 11:55 AM to approx. 4:30 PM
  Place : The Yokohama Foreign General Cemetery main gate
Conditions :
* High School or older, and basic knowledge of Japanese.
* Live in the neighborhood.
* Date for Volunteer must be registered and acknowledgd by the manager in advance. Please contact manager in advance for any inconvenience.
* Receive contact from manager between 10:00 AM and 10:15 AM in case of cancelation.

Contact Information :
The Yokohama Foreign General Cemetery Foundation Office
Zip code:231-0862, 96 Yamate-cho, Naka-ku, Yokohama, Japan
Phone/FAX +81-45-622-1311 (Manager: Higuchi)
>>Send mail to Manager