America-Yama Park
This park was opened in 2009, as beautiful park consisting of American Roses and Dogwood trees.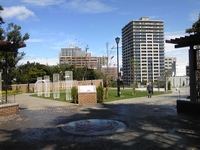 The America-Yama Park is the first park to be established in 2009 utilizing "the 3D City Park System", to comemorate the 150th anniversary of the opening of the Yokohama Port and the Japan-U.S. Commercial Treaty of Friendship which was concluded in 1858.

The America-Yama Park located at 97 Yamate (on a hill) was used by the American Legation at the beginning of the Meiji Era and later used by the United States Armed Forces after the Pacific War until it was returned to Japan in 1971.

The Motomachi Chukagai Station of the Minatomirai Line was completed as a four story building with the addition of an escalator and an elevator to accomodate the pitch difference of 18m between the Motomachi district and the Yamate district and achieve a barrier-free state between the two areas.
The America-Yama Park Exit (No.6 Exit) is situated on the top of the hill.

Copyright (C) 2009 The Yokohama Foreign General Cemetery Foundation